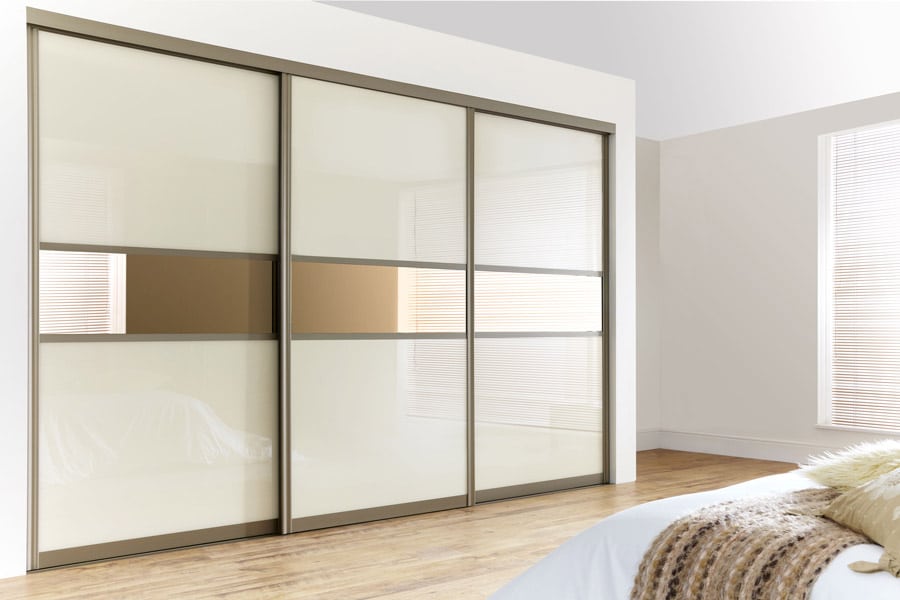 Sliding Wardrobe doors Sunshine Coast
Available in 2,3 or 4 Sliding Wardrobe Sliding Doors
Sliding robe doors are smooth and easy operation due to the slimline handle, and quality aluminium tracking and frames installed.
Your wardrobe doors are the first thing everyone sees and this is why there are several finishes available including vinyl (a popular choice for kids rooms or the money conscious), mirror (often the preferred choice for master bedrooms), or tinted glass (often used for linen or kitchen cupboards).
Our wardrobe doors are available in a wide range of colours and styles, so there's something for everyone and they are incredibly low-maintenance.
All only need a quick wipe clean.
High-Quality Wardrobe Doors Installation
Alpha Screens provide a complete wardrobe doors installation service.
We are able to create customised doors that are tailored to your exact tastes and requirements.
Suitable for wardrobes large and small, our durable, attractive sliding doors offer a stunning bedroom feature as well as easy use.
Why Use Alpha Screens For Your Next Wardrobe Door Installation?
There are a number of reasons why we're the preferred supplier and installer of sliding wardrobe doors for homes across the Sunshine Coast. Some of these include:
Specialists in Sliding Doors
Supplying and fitting sliding doors is our stock-in-trade. Over the years, we have acquired an enormous amount of knowledge and experience in what works best for our customers. This means that when you work with us, you're working with an expert team who really do know their stuff!
High-Grade Wardrobe Doors
All our doors are made to a demanding build specification using premium materials. We believe that our customers deserve quality products that have been skillfully installed. Our skilled craftsmen are dedicated to creating beautiful doors that look amazing, fit perfectly and work wonderfully well.
Installations That Work Well
We recognise that it's not enough for doors to look great, they also need to work well. We make sure that the operating mechanism for each door is suitable for the installation.
We also make sure to select tough, high-grade mechanisms that are built to last. Our team take particular care to ensure that the doors we fit move smoothly on their runners, close correctly and are straight-forward to operate.
Challenging Installations Aren't A Problem
If you've got a wardrobe that's in a tricky location, one that's awkwardly shaped or some other challenging installation that needs completing, we're the people to call! We love a challenge, and with years of door installation behind us, we know all the tips and tricks to make your installation a success.
The Alpha Screens Process
Our Alpha Screens process is one of the things which sets us apart from other providers. Take a look at how we operate and learn about the positive difference Alpha Screens can make to your wardrobe doors installation.
We Listen
Alpha Screens provides custom installations that are designed to meet the needs of our customers. This means that we listen carefully to what you want, then set about providing it.
Transparent Quotes
Once we're clear on what you're looking for, we provide a transparent, comprehensive quote. We have no hidden costs or charges – the price we give is the price you pay.
We Can Do Preparatory Work
If you need your old doors removing we install fresh tracks before your new doors are installed, we'll get the job done.
We aim for 100% customer satisfaction
Our team is committed to completing high-grade, attractive wardrobe door installations that genuinely add value to your bedroom. We want to be the best we can be at every stage of the installation process, offering every customer an impeccable blend of great service and high-calibre results.
For all your wardrobe door needs, get in touch with our team at Alpha Screens & Glass today, call us on (07) 5493 9875.
View Our Wardrobe Door Gallery